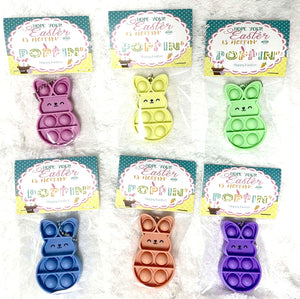 Push-pop fidget toys are an effective home for people with autism and stress disorders, helping them to relieve the stress of anxiety and restore mood. Mini push pop toy, just press the mouse bubbles down and they make a slight popping sound; then flip it over and start again! endlessly reusable and washable, too. Mini keychain toy. No matter where you go, no matter where you are, you can take it with you. At the same time, the hanging hole design is more convenient for storage. Bubble fidget keychain sensory toy, not only can relieve stress but also train your kids' basic math. Can be used for key decoration, backpack ornaments, etc. These educational toys are made of high-quality silicone materials, which are safe and can be used more times, and are durable. If it gets dirty, wash it with water.
Which makes it the perfect Easter Gift!
Comes in packs of 6, ready to share! Trending, no-sugar option for Easter.